One Eyed Jack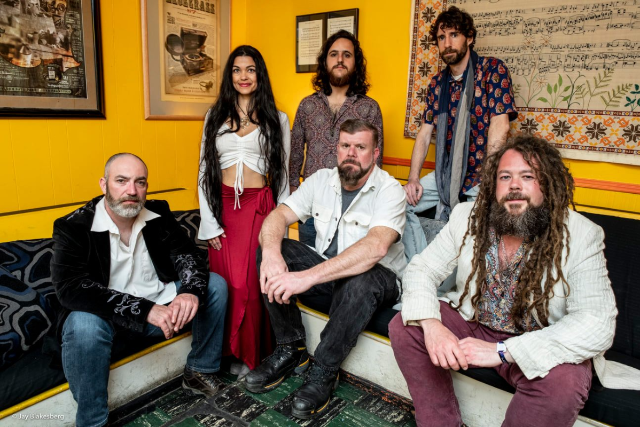 For three decades, One-Eyed Jack has been entertaining audiences throughout the US with their unique blend of psychedelic rock & roll.
Formed by guitarist Gary Gallagher in 1991 as a psychedelic garage band playing its earliest shows in the parking lots of Grateful Dead concerts. With the arrival of bassist/lyricist Adam Riley, the song repertoire doubled, and the music's power increased. Vocalist/lyricist Rosie Lazroe brings a presence of both fire and lightning with her dynamic voice and songwriting. The driving rhythm section of Vincent Smith, known for drumming that goes beyond the technical while sending the listener into deeper transcendent spaces. Guitarist/vocalist Pete Tonti dazzles the music with his unique guitar playing and strengthens the vocals. The wizardry of keyboardist/vocalist Joe Biglin adds colorful textures to the music while singing with powerful force.
Through various lineup and style changes the original sound has remained. Psychedelic rock & roll with heartfelt lyrics that touch on both the spiritual and the surreal.
One-Eyed Jack has released four original, well-received albums – "Before Alone," "Live at the Lion's Den," "Sunlight Blue Madness," and "Keep Your Head." A fifth release is in the works. They're also featured with both performances & interviews in the official DVD for Bob Weir & Ratdog.
As successful as their recording career has been, One-Eyed Jack are equally known for their thrilling, live performances. With a pulsating light show set to cosmic jams, their psychedelic blend of rock & roll transforms the audience to higher levels of grooviness and consciousness, creating an atmosphere to dance and "freak freely."

One-Eyed Jack has shared bills with Bob Weir, Mickey Hart, Hot Tuna, Dark Star Orchestra, Karl Denson's Tiny Universe, David Grisman, Oteil Burbridge, Melvin Seals & JGB, Pink Talking Fish and many more.